About Finger Lakes Homes For Our Veterans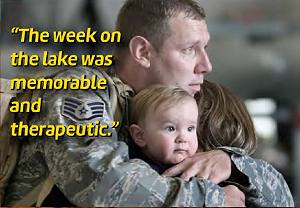 When I read about the accomplishments of a Florida program (www.HomesfortheBrave.org), I knew that a similar program would be successful in the Finger Lakes. Finger Lakes Homes for our Veterans was born of my desire to "give back" to returning soldiers and their families.
Our mission is to provide vacations to returning veterans; a place where they can reconnect with their loved ones by enjoying the "simple things" in life that the Finger Lakes provide: fishing with their children, toasting marshmallows beachside over a roaring campfire, observing a spectacular sunset over a serene and beautiful lake, or just relaxing and enjoying the solitude of lakeside living.
As a new not-for-profit (501c3) organization founded in 2012, our goal was to provide five veterans and their families with the opportunity to enjoy a week long or weekend vacation on one of our beautiful Finger Lakes. By the end of the summer, we were able to extend this invitation to ten families. Our expectations were exceeded not only in numbers, but also in the level of enjoyment and appreciation the soldiers and their families experienced.
Some of our current donor cottages...

Here is what some of the veterans had to say following their Finger Lakes vacation:
"The week on the lake was memorable and therapeutic. It is clean, tranquil, and calm".
---
"The time we spent on Twisting Lane far exceeded our expectations. It provided a perfect balance of peace and quiet with joyful noise that I needed, especially upon my return. A perfect end to an uneventful summer for my family and respite for me. Seeing the joy in their eyes brought such serenity to my soul. I am truly humbled by your unselfish gift".
---
"I can't tell you how much it meant to me to have the opportunity to stay here. Having just returned from a tour in Afghanistan, a chance to take a break and adjust back into society is always greatly appreciated".
By partnering with the Rochester Veterans Outreach Center, with 40 years of experience and service and which has grown to become a national leader of community-based supportive services, we are able to select the most deserving of soldiers.
I personally meet with each family and escort them to their vacation home and introduce them to the host/donor. In addition, I visit midweek to see if all is going well. The donors consistently remarked how respectful and grateful the veterans were. Many stated that the cottage was in better order after the departure of the veterans' family than before their arrival.
Our organization has appeared in several newspapers, including the Democrat & Chronicle and the Daily Messenger. I was also on a radio talk show to discuss the program. View the Daily Messenger Article.
Our goal for this year is provide a vacation for 20 veterans. I know that with the continued support of the VOC and last year's donors, coupled with your support, that this will become a reality.
- Joe Testa